Well, over a year and a half later, I suppose I should release Spadille 1.6 eh?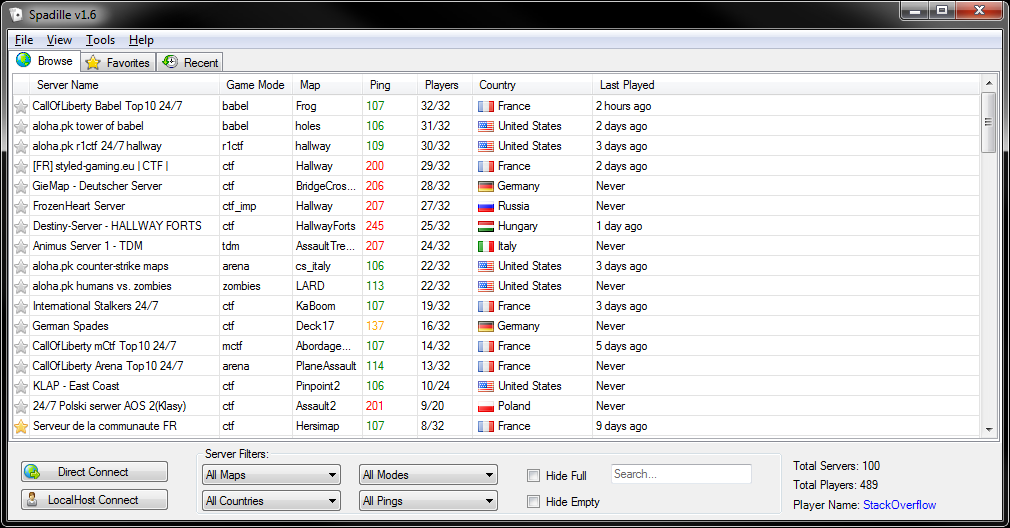 Spadille dropped off the grid a bit after being put on the back burner a while ago. I stopped working on it during the middle of refactoring…which is a bad idea. It's been ready for release for a long time now, but I just never released it. Why do today what you can put off until tomorrow? This version does not support OpenSpades yet, but I will release a quick patch shortly for it.
You can download Spadille 1.6 here.
Changelog:
Countless minor UI changes
Fixed a bunch of minor bugs
Improved memory usage
Improved threading
Rewrote screenshot hooking, caching and manager
Added dynamically populated server filters
Added share link
Added autocomplete to server browser
Added mumble link
Removed deprecated dependencies
Fixed support for Build and Shoot
Abstracted Spadille client and SpadilleDotNet library
Added "Last Played" column
Added intermediate dialog when joining server
Related Notes:
I'll likely be releasing my library that Spadille is based on (along with a few other projects), SpadilleDotNet. It's a C#/.NET (2.0 compliant) library that provides a lot of functionality for working with Ace of Spades Classic (Voxlap/OpenSpades), Build and Shoot, Ace of Spades 1.0, and more.
Additionally, I have a few more tools that I'll be releasing here soon as well, as I start to dig through old projects that I've not released, so keep an eye out.